Contact Us Today
Tell Us About Your Project
Stair Services We Offer in Wetumpka
Metal Stairs & Railings Wetumpka
Amp Welding Fabrication has been providing outstanding metalwork services for close to 20 years. Our team of experts, led by Alvon Portis, the owner, provides any type of metalwork that you may need. We are able to achieve any ideas that our customers may have including custom metal working. Amp Welding Fabrication specializes in services such as stainless steel fabrication and metal works, with a specialty in metal staircases in the Montgomery area and we have gained the proper craftsmanship to give the best results to our customers as much as possible. We offer services such as renovations, repairs, replacement, and installation of metal staircases. Amp Welding Fabrication is dedicated to providing the best results to our customers by doing the job right the first time. We aim to deliver and achieve the highest rate of customer satisfaction in every work that we do. If you need residential, condominium, or commercials staircase or railings, our team is ready to provide you with the best service possible.
Looking For Wetumpka Metal Stairs Services? We Provide Professional Metal Staircase Replacement, Repair & Renovations in Wetumpka
Amp Welding Fabrication's services include: fabrication, demolition, installation and the replacement of metal staircases, stairs and railings in Wetumpka. In addition to staircases, we also can do metal work for balconies, porches, steel beams, as well as iron & steel. We renovate railings, handrails and staircases for older condominiums and apartments and make sure that they look good as new.
We only offer the highest quality of work so that your staircase or railings look beautiful but will last for years in your home, condominium, office, or commercial spaces. Our team of contractors and metal fabricators can handle any type of spiral staircases, straight staircase, metal stair railing, and metal handrails in Wetumpka. We also offer high quality finishes for your metal stairs and railing to either match the interior of your space or powder coating and rust resistant paint for outdoor stairs. From metal staircases to outdoor stair railings in Wetumpka, you can count on Amp Welding Fabrication to get the job done.
Our team works beyond 100 percent to make sure that you will get the beautiful and amazing results that you want for your property. Our uniqueness, and cost saving ideas are what separates us from other companies in the Wetumpka area. If you are having trouble with your design, we have got you covered. We have CAD certified designers willing to help you turn your imagination into a reality. Contact Amp Welding Fabrication today so that you can get the staircases, railings, handrails and many more metal works that you have always wanted for your home, condominiums, or commercial spaces.
Metal Staircases Wetumpka
One of the most popular types of staircases and the most searchable metal services is: "metal staircases in Wetumpka". Metal staircase designs can be unique, but usually follow standard building frameworks such as: metal spiral staircases, square staircases, ornamental wrought iron staircases, industrial stainless steel staircases, straight staircases and more. Our metal stairs are made from top-notch metal materials so that you do not have to worry about it rusting over time. We have the skills and knowledge to provide any design that you may want for your home or commercial spaces. If you can't think it up, we can design it and fabricate it for you. We will do our best create your design for you making sure that we can exceed your expectations.
Spiral Staircases Wetumpka
When it comes to your spiral staircases in Wetumpka, we do our best to earn your trust by offering competitive pricing backed by our excellent customer experience. A spiral staircase can be an excellent solution for your home or commercial spaces, indoor or exterior staircases. Spiral type of staircases are usually a great solution when it comes to either your decorative or space saving design needs. It doesn't usually occupy a huge space like your regular square or straight staircases. Our contractors are skilled in providing the best-customized metal staircase for you ensuring that it matches your personality and style. The materials that we use for our metal spiral staircase are both ideal and functional for indoor and outdoor use. Because of their space saving ability and durability outdoors many fire escapes and emergency egress stairs are spiral staircases.
We can fabricate, design, build, and install any iron / metal spiral staircases which are functional, useful and beautiful. In order to provide you with the highest quality result for your home or commercial space, we make our stairs from the highest quality material. When it comes to your spiral staircase, you can rely on us for top-notch service without breaking the bank.
Metal Stairs Wetumpka
We are one of the few companies that can provide the best metal stairs in Wetumpka. There are many kinds of different forms of metal stairs. We do not only limit ourselves to just providing straight staircases but also spiral stairs, curved stairs, floating stairs, ornamental wrought iron stairs. As well as many industrial and commercial stairs such as bar grated stair treads, mezzanines, landings and catwalks. With our unique designs, we ensure that you will receive the best result possible for your home or commercial spaces. Contact us today to get the started on your project.
Metal Exterior Staircases Wetumpka
Metal exterior staircases are a great option for a great ascetic and long lasting staircase for outside. This is a popular choice for many residents and business in Wetumpka. We make sure that our exterior staircases are made with materials that are waterproof and are not prone to rust over time. We also make sure that we either paint or powder coat our exterior stairs for a long lasting finish that will stand up to the outdoor elements often seen in Wetumpka. As such our stairs and railings can last for years being exposed to snow, sleet, rain, ice, long exposure to the sun, hot and cold.
Fire Escape Staircase Wetumpka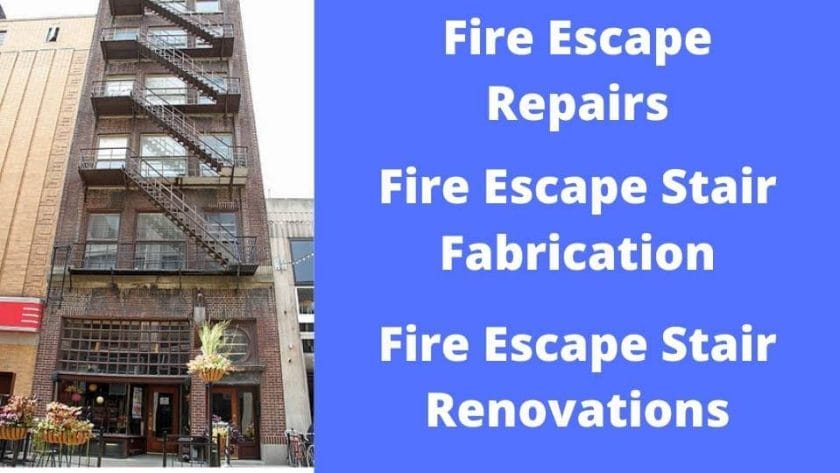 Many people often call us not only for exterior staircases, but often these requests are for fire escape staircases services in Wetumpka. Our company ensures to follow not only the International Building Code (IBC) but also Alabama building code and any and all codes and permits from Wetumpka when it comes to building a standard size metal fire escape staircase that you may need for your residential or commercial property. This allows us to provide a safe and totally code worthy staircase to our customers at a reasonable price.
Our Wetumpka fire escape staircase's are offered in different types of designs depending on what you are needing for your particular building. This can be the space saving design of a spiral fire escape staircase, square fire escape stairs, straight fire escape stairs or fire escape ladders. Which ever of the designs we offer we can build it for you with the utmost safety in mind.
Wrought Iron Staircases & Railings Wetumpka
A wrought iron staircase is not only durable but can leave a lasting impression on anyone who appreciates great design. Having wrought iron stairs in Wetumpka can can set your home, business, condo, or apartments apart by having a unique design. At our company, we can help you achieve that unique design by offering spiral staircases, straight staircases, along with unique metal handrails for your home or business in Wetumpka with our expertise in the industry. You can shape wrought iron in different ways. The heating process is responsible for making those twists of ribbons, the custom spindles, and other designs or styles you see on personalized metal stairs in Wetumpka, which our contractors perform with excellence. We can customize your metal spindles or metal railings to suit your style and the whole structure of the place, whether for your home or commercial space. We can also spruce up your staircase and give your metal balusters a personalized finish that you won't find in the market. Whichever your style preference may be, trust our expert metal fabricators and staircase specialists to make your dream design come true!
Everything from our circular stairs to our outdoor wrought iron stair railings in Wetumpka is designed with function and beauty in mind. Whether you want a rustic vibe with an open staircase or a minimalist spiral staircase for a contemporary house or building, we can do it for you. We have skillful contractors and fabricators to take precise measurements of your property so we can design the best type of staircase or railing you need for your space. We use high-grade materials that are both durable and long-lasting, so you can enjoy it for a long time and have no worries with maintenance and repairs. Our wrought iron staircases and railings would surely add a sophisticated touch to any space without burning a hole in your pocket. For durable stairs, railings, and metal balusters around Wetumpka, contact our company today!
Metal Handrails Wetumpka
When it comes to your metal handrails in Wetumpka, our company offers outstanding results at affordable prices. Our contractors can provide the best metal railings for your balconies, stairs, terraces, and decks and we offer a wide selection of metals the handrails and railings can be made from including iron. We can create unique designs that will fit not only your budget but also your design appeal for your property. Our outdoor stair railings are meant to stand the test of time and will not rust as time passes by. We make sure to use only the highest quality of materials so that it will not only look beautiful but will also last for years.
Metal Stair Railings Wetumpka
Among the types of railings Amp Welding Fabrication offers, metal stair railing in Wetumpka is the most popular. We propose many designs of metal handrails, stair railings and bannisters, and we advise our customers which idea will fit their interior and exterior spaces. Our contractors have the proper knowledge and skills to provide the best result to our customers. We strive to give customer satisfaction by going beyond our client's expectations. Our company handpicks the materials that are used for our metal railings so you can ensure that when you use it you are safe. Since we hand pick the materials you will get the best value for dollars with our metal stair railing. Our goal is to provide you with the smoothest possible experience. Call us today to get the job done!
Outdoor Handrails & Stair Railings Wetumpka
Our outdoor stair railings in Wetumpka are meant to last for years. Our contractors will make sure that the railings we create are waterproof and will not rust as the year passes. Our outdoor handrails can withstand any weather conditions it may face such as: rain, ice, snow, sleet, and hours of sun exposure. Our contractors will make sure to get the outdoor metal handrail job done as quickly as possible without having to sacrifice the quality of our work. We will provide you with a comprehensive estimate so that there wouldn't be any surprises along the way.
Metal Handrails for Concrete Outdoor Steps Wetumpka
If you are looking for a company that can create metal handrails for outdoor steps in Wetumpka, we are your best choice. We make sure that our metal handrails for concrete steps are easy to install and will provide safety to you and your family or business patrons. Our contractors ensure to use the lightest yet strongest material possible so that the installation will be done quickly. When you choose Amp Welding Fabrication, you can rest assured that you will get the best service possible. We will create a metal railing that will be contoured to your concrete steps and look great with your home or business along with providing the safety you need.
Metal Deck Railing Wetumpka
We create a metal deck railing in Wetumpka that will match the style and design of your home or commercial spaces. We are able to produce an addition to your deck railing and can create parts of the wooden construction. When we're done, your deck will be safe with the metal railing we'll install.
Metal Porch & Balcony Railing Wetumpka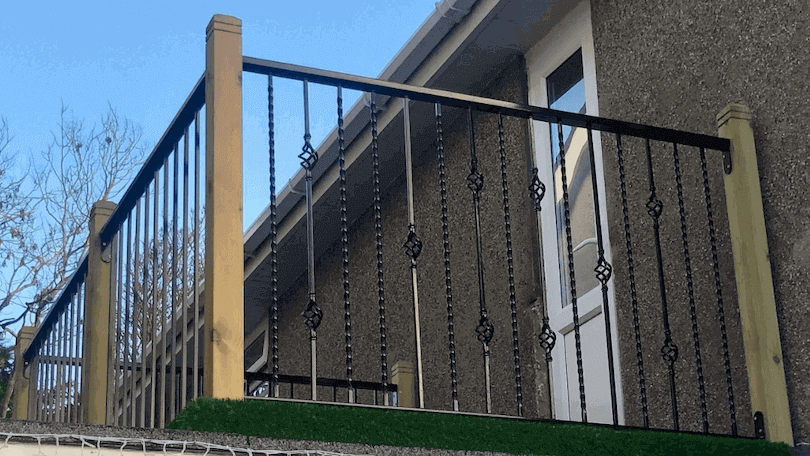 Your porch and balcony is the most exposed to different weather conditions, which is why choosing our metal porch railing in Wetumpka is the best. With our waterproof metal railing, you can ensure that it will last for years. We can create additions to your porch or balcony that will fit in with your current design or help to give your porch or balcony a whole new look while being safe and functional.
Apartment & Condo Stairs Fabrication & Installation Wetumpka
Are you in need of apartment stairs in Wetumpka? From multistory units to stacked quadplexes we have built apartment staircases for them all. Amp Welding Fabrication offers a variety of options to get the steel or iron apartment stairs built, such as: standardized prefabricated stairs for your apartment building, customized staircases for your particular design. We also offer staircases with attached landings and catwalks. While it is not fairly common we can also construct spiral staircase for apartment buildings.
Industrial Staircases Wetumpka
Needing interior or exterior industrial stairs in Wetumpka? If you are needing some industrial metal stairs fabricated or repaired feel free to contact us. We have helped several clients across many industries fabricate industrial stairs for their facilities. Amp Welding Fabrication also can fabricate and install mezzanines attached to the metal stairs. We also offer a variety of treads such as bar grating, diamond grate, diamond plate and custom steel treads. Whatever your dimensions we can build to fit your industrial staircase needs with a custom fit and finish.
Warehouse Stairs Wetumpka
Warehouse staircases in Wetumpka are often used for either exterior exits or for second story access for crossover or structural supported mezzanines. As such the needs of warehouses change and are generally in need of custom fit warehouse stairs. For this reason Amp Welding Fabrication will usually need to schedule an inspection for gathering the necessary measurements from the warehouse to accurately fabricate and install the stairs in the warehouse space.
Metal Staircase Repair Wetumpka
Needing metal stair repairs in Wetumpka? External Metal stairs are often needing repaired due to rust, water damage, erosion over time to the elements, or shoddy welding that was not done right in the first place.
The main things that are needing repaired on stairs are:
Wobbly or broken railings. This can lead to dangerous situations of either falling or someone getting cut by a jagged broken railing.
Rusted or compromised Steel/Iron Beams. The rust weakens the integrity strength of the beam and everything that it is supporting. When this happens this becomes and extremely dangerous situation for any to use the staircase along with anything that the beam may be supporting structurally.
Loose handrails.
Loose or broken treads. When this happens it can allow for a person to fall through the staircase or cause uneven footing leading to falling down the stairs.
Damaged Stringer(s). A stringer is the support in which the treads are mounted and either to the building, catwalk, landing or mezzanine. If a stringer becomes damaged it can cause a possible situation where one side of the staircase bends and bows and can cause serious injury to anyone using the stairs when this happens.
Materials That We Use For Our Stairs & Railings
Iron
Iron is a type of metal that we use with your metal stair. Iron is by far the most common industrial metals because of their mechanical properties, strength, and low cost. Our bare (unfinished) metal staircases and railings have a pristine, and smooth pure iron surfaces are mirror-like silvery-gray that is a popular material for making items that will last for years.
Steel
Steel is an alloy of iron and carbon, and sometimes other elements like chromium. It has high tensile strength as well as low cost. It's a significant component used in buildings, infrastructure, tools, and also metal staircases. It is one of the most common manmade materials in the world that is used for metal stair and metal railings.
More Information About Wetumpka
#var8::City_Blurb#.
Map of Wetumpka
Things to do in Wetumpka
Reach Out To Us About Your Project
Big or small AMP Welding can handle it all. Fill out our welding request form and let us see how we can best serve your welding needs.
© 2022 AMP Welding & Fabrication