Contact Us Today
Tell Us About Your Project
What are handrails and railings made of?
The ideal material for stair handrails and railings is determined by the staircase's setting as well as the intended look. Metals such as steel, aluminum, and wrought iron are popular in commercial and industrial settings, as well as contemporary ones.
Steel Handrails & Railings
Stair handrails and railings for commercial evacuation stairs and industrial staircases are commonly made of steel. Steel is also an excellent choice for stair stringers. Galvanized or stainless steel is frequently used to avoid rusting. Zinc is applied to galvanized steel to prevent corrosive elements from corroding the steel beneath. Stainless steel is treated with chromium, nickel, nitrogen, and molybdenum to make it corrosion resistant.
Applications For Steel Stair Handrails
Steel handrails can be used in just about any environment. A powder coated or galvanized steel handrail is a popular choice for prefabricated industrial stair applications where other components of the stairs are made of steel. For homes and commercial spaces, stainless steel handrails provide a sleek, modern look. Stainless steel handrails can be used with railings made of other materials, like glass, to create a modern design.
Steel stair railing applications
Steel railings can also be used in a variety of settings including industrial, commercial and residential. When used in industrial environments, steel railings serve to be more functional. In homes and offices, stainless steel railings provide clean lines and a contemporary appearance. They can be used with a variety of handrail materials, such as wood, to create the desired effect.
Advantages of Steel Handrails & Railings
Steel is one of the safest materials to use for handrails and railings since it is incredibly robust and long-lasting.
Powder coatings, liquid paints, and primers can be used to improve the performance of steel.
Galvanized and stainless steel are low-maintenance materials that may be cleaned with a sponge and a mild detergent.
Steel is a weather-resistant and adaptable material that can be used both inside and out.
Aluminum Handrails & Railings
Aluminum is a naturally occurring element with a lower density than other metals, allowing it to be lighter than steel. Aluminum has a silvery appearance and is very reflective. Without any additional treatment, aluminum is naturally resistant to rust and corrosion.
Applications for Aluminum Handrails
The use of aluminum handrails is widespread. In homes, commercial buildings, and industrial settings, they are both suitable for use inside and outside.
Applications for Aluminum Stair Railing
Aluminum stair railings are often used outside for entrance steps and decks. However, they can also be indoors in any type of building of facility.
Advantages of Aluminum Handrails & Railings
Aluminum, like steel, is a robust and durable material that can be used to create a safe atmosphere.
Aluminum is resistant to even the toughest weather conditions and requires very little upkeep.
Aluminum is easier to install and more suitable for DIY projects than steel because it is significantly lighter.
Aluminum is also easier to cut and mould than steel due to its reduced weight. As a result, it comes in a greater range of designs and patterns.
Aluminum handrails and railings can be powder coated to provide an assortment of color options.
Disadvantages of Aluminum Handrails & Railings
Aluminum is more expensive than steel for handrails and railings, which is the biggest disadvantage.
Aluminum handrails and railings are also more prone to denting and scratching than steel
Wrought Iron Handrails & Railings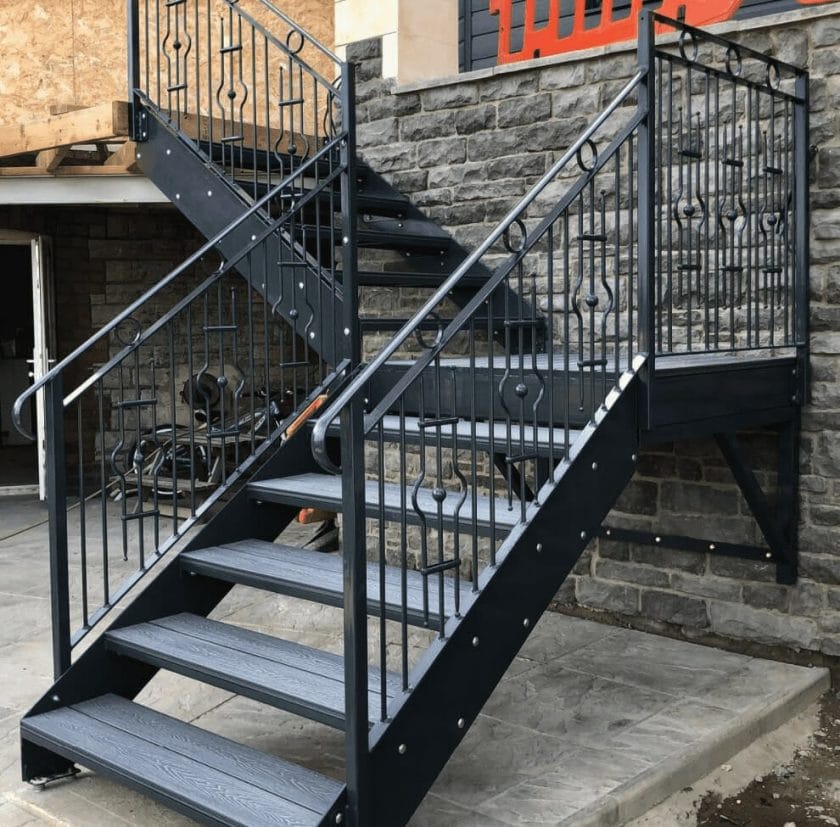 Wrought iron is a type of iron alloy with a low carbon percentage. In the mid-nineteenth century, demand for this malleable substance, which was frequently employed to generate a highly decorative look, peaked. Wrought iron is no longer mass-produced, but it is still used for restoration and recreation of historic structures. Most modern products that resemble wrought iron and are labelled as such are really constructed of mild steel with a low carbon content.
Applications for Wrought Iron Stair Handrails
Indoor and outdoor wrought iron handrails can be found in houses and businesses. On both straight and curved staircases, wrought iron handrails can be used.
Applications for Wrought Iron Railings
Private residences and office buildings both have decorative wrought iron stair rails. They can be utilized on both the inside and outside of a building. To generate a sophisticated and dramatic look, wrought iron balusters are frequently utilized in conjunction with wood handrails.
Advantages of Wrought Iron Stair Handrail & Railings
Wrought iron's adaptability is one of its most appealing features. Its malleability allows it to be utilized to create a wide range of styles, from a sleek modern aesthetic to complex leaves or scrolls.
Wrought iron gives stability and strength to staircases due to its strength.
Handrails and railings made of wrought iron can be powder coated in a variety of colors.
Disadvantages of Wrought Iron Stair Handrail & Railings
Wrought iron is usually more expensive than other materials, partly due to the fact that it is frequently created to order.
Wrought iron is difficult and time consuming to install because to its weight, which drives up labor expenses.
Weather exposure can cause wrought iron to rust if it is not properly maintained.
Wrought iron needs to be recoated and repainted on a regular basis to keep it from rusting.
Reach Out To Us About Your Project
Big or small AMP Welding can handle it all. Fill out our welding request form and let us see how we can best serve your welding needs.
© 2022 AMP Welding & Fabrication