Mezzanine
---
Definition
A mezzanine is an intermediate floor (or floors) in a building which is open to the floor below. It is placed halfway up the wall on a floor which has a ceiling at least twice as high as a floor with minimum height. A mezzanine does not count as one of the floors in a building, and generally does not count in determining maximum floor space. The International Building Code permits a mezzanine to have as much as one-third of the floor space of the floor below. Local building codes may vary somewhat from this standard. A space may have more than one mezzanine, as long as the sum total of floor space of all the mezzanines is not greater than one-third the floor space of the complete floor below.
Mezzanines help to make a high-ceilinged space feel more personal and less vast, and can create additional floor space. Mezzanines, however, may have lower-than-normal ceilings due to their location. The term "mezzanine" does not imply a function, as mezzanines can be used for a wide array of purposes.
Mezzanines are commonly used in Modern architecture, which places a heavy emphasis on light and space.
---
A GUIDE TO MEZZANINE FLOORS
DEFINITION
A mezzanine floor is an intermediate floor between main floors of a building, and therefore typically not counted among the overall floors of a building. Often, a mezzanine is low-ceilinged and projects in the form of a balcony. The term is also used for the lowest balcony in a theatre, or for the first few rows of seats in that balcony. The word mezzanine comes from Italian mezzano "middle".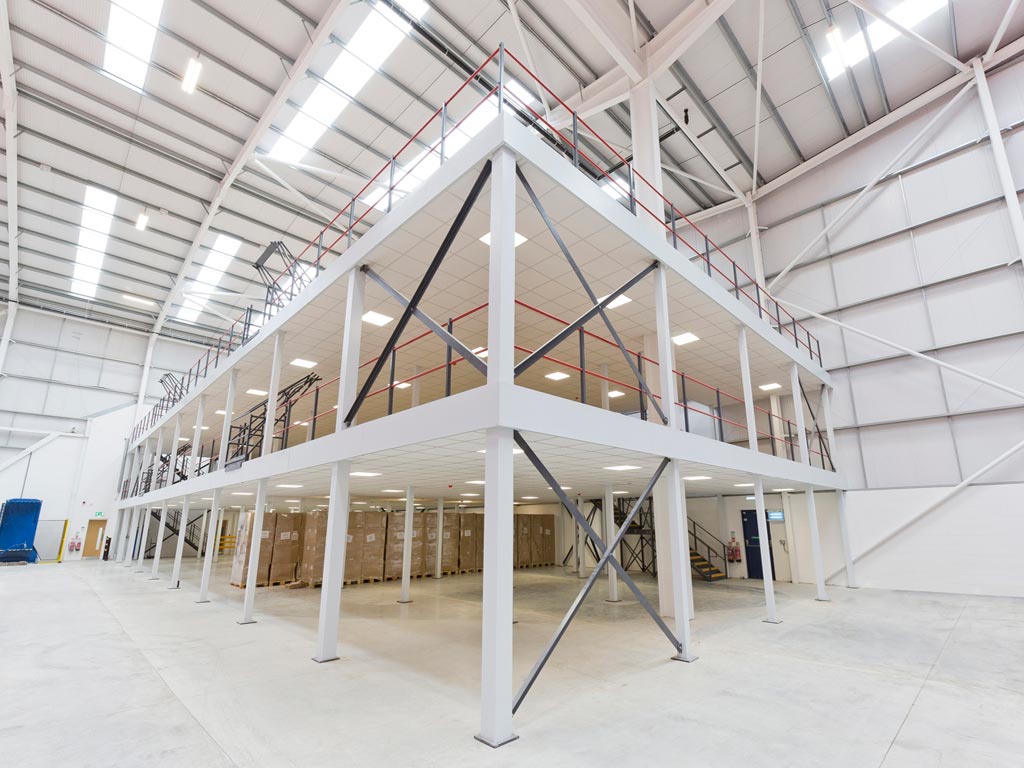 MEZZANINE FLOOR APPLICATIONS
In industrial applications, mezzanine floor systems are semi-permanent floor systems typically installed within buildings, built between two permanent original stories. These structures are usually free standing and in most cases can be dismantled and relocated. Commercially sold mezzanine structures are generally constructed of three main materials; steel, aluminium, and fibreglass. The decking or flooring of a mezzanine will vary by application but is generally composed of b-deck underlayment and wood product finished floor or a heavy duty steel, aluminium or fibreglass grating.
The mezzanine is often used in shops and similar spaces for storage of tools or materials. The high roof of the shop is ideal for a mezzanine, and offices can be put either below or above it. Mezzanines are frequently used in industrial operations such as warehousing, distribution or manufacturing. These facilities have high ceilings, allowing unused space to be utilized within the vertical cube. Industrial mezzanine structures are typically either structural, roll formed, rack-supported, or shelf supported, allowing high density storage within the mezzanine structure.
COMMON USES OF MEZZANINE FLOORS
The most common use of a mezzanine floor is for storage.  This normally means utilising either a combination of short and longspan shelving below and above the floor.  Many businesses will use one level for one purpose e.g. storage and the 2nd level for an office.
Office mezzanines can be built in the warehouse and factory environment and by using composite or steel partitions with glazing can create the right work environment. All welfare facilities such as canteens and toilets can be part of the self contained offices.
Mezzanines are often used in retail to increase the selling space and or the storage back of store.  When mezzanine floors are used in retail there are stringent regulations as in the floor has to be fire rated, the stairs are for public access and the hand rail is suitable for public use.
Other mezzanine uses include increasing space for production, packing, sorting etc.
"It is often a lack of space that holds back businesses from growing." The lower cost option to relocation could be a mezzanine floor.
FURTHER MEZZANINE FLOOR INFORMATION
We have produced a mezzanine floor white paper to explain more about the process of purchasing a mezzanine floor and what you need to know and consider.  This includes answers to the following: –
What height do I need in my building?
How many mezzanine levels can I have and can I add additional levels?
Does the mezzanine need to be fire rated? If so what does this involve & mean?
Do I need planning permission?
Do I need to contact Building Control? or will my provider look after this?
What weight can I put on the floor? Will the floor take the load?
What floor finish is suitable?
We have years of experience, partnerships and processes in place to help you with your mezzanine floor project. This can include a providing the items that are going above and below the mezzanine deck, including shelving, offices, mesh caging and much more. we also offer stainless welding on some floor
If you require any further information, please contact us
---
Mezzanine Stairs
Our company is your ideal source for mezzanine stairs and stairways for other applications. All of our stairs are designed with your safety as the first priority and meet and exceed OSHA requirements.
With their easy to install nut-and-bolt connections, our stairs will easily fit exactly where you need them:
STAIR PHOTO GALLERY
Here are some photos of stairs that were incorporated into various mezzanine projects.
STAIR TYPES
Our stairs are available in 4 different types, each engineered to meet your safety code requirements and standards.
Any of these stairway types can be customized to fit your specifications. Some common shapes of stairs are:
Straight
Straight with Landing
L-Shaped
U-Shaped
Click here for detailed information about OSHA rules for stairways and ladders.
Click here for detailed information about IBC regulations for stairways.
If you need additional information, please contact us with your question and one of our representatives will get in touch with you.