Contact Us Today
Tell Us About Your Project
Stair Services We Offer in Pelham
Welding Services in Pelham
We Provide Professional Metal Staircases Installations, Metal Stair Railing & Handrail Renovations & Spiral Staircases in Pelham
Fabrication, demolition, installation, and replacement of metal staircases, stairs, and railings are among the welding services in Pelham that Amp Welding Fabrication offers. Aside from staircases, we can also do metal work for balconies, porches, steel beams, and iron steel. We refurbish railings and staircases in older condominiums and apartments so that they look as good as new.
We only provide the highest quality work, ensuring that your staircase, railings & handrails; not only look beautiful but also last for years in your home, condominium, office, or commercial space. Our contractors and metal fabricators in Pelham can handle any type of spiral staircase, straight staircase, metal stair railing, and metal handrails. We also provide high-quality finishes for your metal stairs and railing, which can be powder coated or painted to match the interior of your space. You can rely on Amp Welding Fabrication for everything from metal staircases to outdoor stair railings in Pelham.
Our team goes above and beyond to ensure that you receive the beautiful and amazing results that you desire for your property. Our uniqueness and cost-cutting ideas set us apart from other businesses in the Pelham area. We can help you if you're having trouble with your design. We have CAD certified designers ready to assist you in making your vision a reality. Contact Amp Welding Fabrication today to get the staircases, railings, handrails, and other metal works you've always wanted for your home, condo, or commercial space.
Metal Staircase Repair and Replacement in Pelham
Replacement, installation, renovation, and repair of railings, stairs, staircases, balconies, porches, steel beams, and iron steel are all part of Amp Welding Fabrication's metal stair services. We also renovate old condominium railings and staircases to make them look as good as new.
We weld repairing broken staircase parts, adding stair supports, replacing treads, repairing a staircase handrail, full restoration, or just some TLC. Here are some stairway-related solutions that we can assist you with.
Metal stairwells should be cleaned of rust so we make sure to remove any and all rust.
Repair a faulty staircase.
Replace stairwell steps, shelves, or railing and handrail sections.
Add or weld necessary structural metal parts to your staircases to improve their security and integrity.
Restore and bring back to the life the vintage look of old metal staircases.
Just about any type of metal staircase can be refurbished.
Fire Escape Staircase Repairs & Fabrication Pelham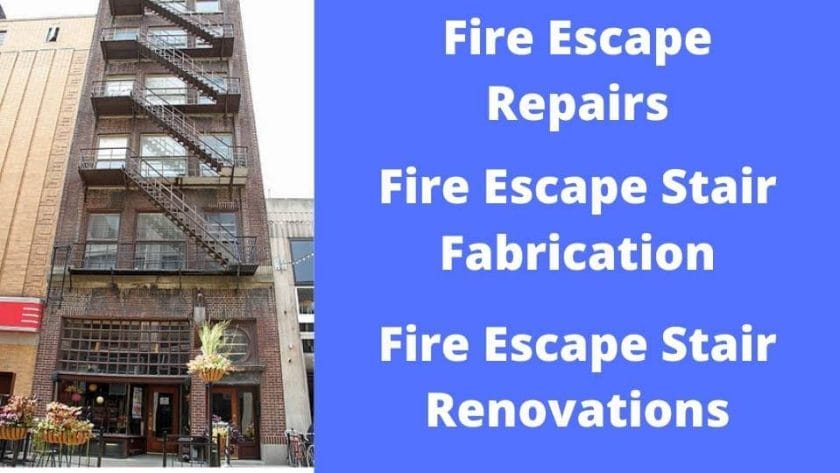 Straight fire escape staircases and spiral fire escape staircases are available from Amp Welding Fabrication and provide a safe and stable way for guests, tenants, or office/industrial workers to evacuate your building. Our dependable, long-lasting designs provide a long-term solution with guaranteed structural integrity. All of our designs are compliant with the International Building Code (IBC) for fire safety and regulation. Amp Welding Fabrication works to ensure that at each step, you are meeting both the IBC and local code requirements, as well as any city permitting requirements.
In Pelham, we specialize in fire escape repair, replacement, and painting. We offer the best fire escape repair and replacement services with a guarantee to pass city codes, as well as maintaining building and fabrication standards to International Building Code for fire escapes while maintaining the highest precision quality.
We will provide complete repair and replacement services, which will include:
Getting Rid of Loose Rust and Paint (RRP Certified)
All worn out and corroded steel will be removed and replaced.
Prevent and treat rust and decay in the future.
Fabrication of Fire Escapes
Repair and removal of fire escapes
Any steel work that is needed.
All treads, rails, supports, and platforms are hand painted to achieve the best finish and water protection.
More Information About Pelham
Pelham is a laid-back neighborhood known for Oak Mountain State Park, with its hiking and mountain biking trails, as well as lake swimming, fishing, and water sports. Big-name rock and country bands play the open-air Oak Mountain Amphitheatre. Interstate 65 and Highway 31, which run through the area, are dotted with large chain stores and restaurants, plus some quaint cafes and comfort food spots. .
Map of Pelham
https://www.google.com/maps/place/Pelham,+AL/@33.3163439,-86.8211916,12z/data=!3m1!4b1!4m5!3m4!1s0x88892350325472f9:0x2e56e8116579381a!8m2!3d33.2856687!4d-86.8099885
Things to do in Pelham
https://www.google.com/travel/things-to-do?dest_src=ut&tcfs=EhQKCi9tLzAxejN0MmISBlBlbGhhbQ&dest_mid=%2Fm%2F01z3t2b#ttdm=33.298430_-86.751400_11
Reach Out To Us About Your Project
Big or small AMP Welding can handle it all. Fill out our welding request form and let us see how we can best serve your welding needs.
© 2022 AMP Welding & Fabrication