Contact Us Today
Tell Us About Your Project
Stair Services We Offer in Huntsville
Metal Staircase Repair & Installation Services in Huntsville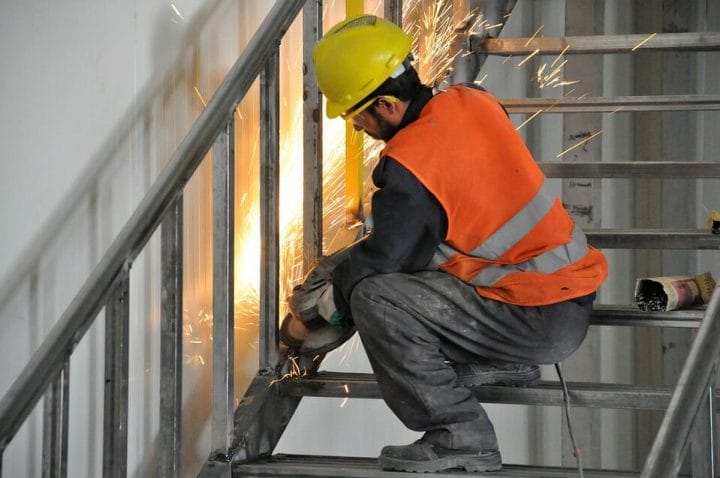 Metal stairs are used indoors, outdoors, and also as fire escapes. External staircases in Huntsville often need welding repairs due to rust or other damages caused by the weather. We'll help you fix any staircase damage and provide you with solutions that will prevent the issue from reoccurring in the future. Our team is an expert at identifying the root of the problem that causes your staircases to wear out and offer you reliable, long lasting solutions.
Amp Welding Fabrication uses the latest technology and the best tools to make your staircase safe for you and your family. If your stairs handrail is getting loose, parts are becoming rusty or a section of your staircase is unstable, you must have your staircase repaired asap. Leaving staircase damage untreated can cause a health and safety risk. Don't wait for something to go wrong, talk to us for professional advice, and an inspection of your staircase and quote to get your staircase back to being 100% safe.
Metal Stair Repair Services in Huntsville
Amp Welding Fabrication metal stair services include the replacement, installation, and renovations and repair of railings, stairs, staircases, balconies, porches, steel beams, as well as iron steel. We also renovate railings and staircases for old condominiums making sure that they look good as new.
We weld repairing broken staircase parts, adding stair supports, replacing treads, fixing a staircase handrail, full restoration, or just some TLC, you can get it all from here right now! Here are some staircase related solutions we can help you with.
Remove rust from metal staircases
Fix a damaged staircase.
Replace staircase steps, shelves, or parts of the railing.
Improve the security of your staircases by adding or welding necessary structural metal parts.
Rejuvenate the appearance of old metal staircases.
Refurbish any type of metal staircase.
Apartment & Condo Staircase Repairs & Replacement in Huntsville
If you are a property manager, owner or a maintenance person at an apartment complex or Condo in Huntsville you know and understand that safety is your utmost concern for your tenants. This is why if you have railings that are wobbly, stair beams that are rusted, and stair treads that are either cracked and falling apart (concrete treads) or rusting (metal treads) away; this causes a safety issue for your tenants. Our team of fabricators and installers are experienced at apartment stair and catwalk rebuilds, apartment egress stair replacement, balcony catwalks, railings, and more.
The Amp Welding Fabrication team is skilled at providing an accurate field measure, detailed shop drawings, quality welded products, and all-around problem solving start to finish. Apartment property managers and owners regularly contract us to repair or replace stairs, railing, and walkways at apartment complexes, condo associations, co-ops, and other rental properties including resorts.
Don't wait to replace unstable rusty metal stairs. Avoid costly lawsuits by ordering durable galvanized steel stairs and beautiful powder coated rails today. Remove the potential for costly liabilities and lawsuits by replacing unstable rusty stairs before an accident happens.
Metal & Concrete Stair Tread Repairs and Replacement in Huntsville
Concrete Stair Treads
Concrete stair treads over time can deteriorate and crack. When this happens it can leave a staircase step that is faulty and unsafe for anyone to use. This happens in many older staircases that used just reinforced concrete stair treads. The newer and more modern approach is to use pre-cast concrete treads encased in a steel box. This helps to keep the treads lasting a lot longer without cracking and breaking up.
Metal Stair Treads
Metal stair treads can wear down over time due to water and wear. This is especially the case if the paint that was protecting the steel underneath from rusting has been worn off or new coats of paint are needed. Water is the worst enemy of steel stair treads as if water can get into the steel and stay on it it cause oxidation which turns to rust. As the steel treads rust they become unsafe and can lead to injury and even death if someone was to step on them while in this rusted condition. Rusted steel treads are also deceiving as you cannot tell just by looking at them how far the deterioration has gone to where the stair tread is totally unusable until it is too late.
Our team is skilled at assessing a job and helping you determine the most cost-effective yet durable solution. We replace treads on apartment stairs, for example, when most of the stringers and other components are in relatively good condition.
Amp Welding Fabrication can replace worn-out stair treads with quality reinforced metal, pre-cast concrete, and composite wood products. Whether you need to match an existing walkway or replace the entire staircase, we can help you with your rental property needs. Avoid the lawsuits and liabilities that unstable and unsafe stair treads can produce. Contact us today to see how we can help you.
Cracked and Rusted Stringer and Column Repair in Huntsville
When it comes to a rusted column or stair stringer we do our best to evaluate the structural integrity of the steel and determine if it needs to be either repaired or totally replaced.
If the column or stringer is salvageable then we use heavy duty plate steel to weld over the damaged area along with other structural welds to ensure the repair is safe and effective.
If a column, steel beam, or stringer is totally compromised it can mean an unsafe work or living environment and we can address these needs quickly by replacing them and welding to the other metal it is supporting.
We also can handle your repair or replacement columns for walkways and carports, catwalks, and mezzanines. In addition to these we repair damaged columns in warehouses and overhead door steel framing and lintels as well. Our onsite mobile welding trucks ensure we come with everything we need to do the job, as we are prepared to cut, torch, grind, and weld as necessary.
Fire Escape Staircase Repair Huntsville
In Huntsville, we specialize in fire escape repair, replacement, and painting. We give the greatest fire escape repair and replacement services with a guarantee that they will pass city codes, as well as maintaining our building and fabrication standards to the International Building Code for fire escapes while retaining the highest precision quality.
Metal Handrail Repairs in Huntsville
We fix both interior and exterior metal handrails in Huntsville. Our team of experienced welders fix metal handrails and railings for your balconies, stairs, stairways, disabled ramps, terraces, and decks.
Best Stair Fabrication & Repair in Huntsville
Our team of experts welders at Amp Welding Fabrication has over 40-years' of combined experience in welding and fabrication. That's only one of the reasons for you to trust a high-quality service with flawless results when hiring us.
Whether you require a metal staircase service for a commercial or a residential property compromise on nothing but the best. Let our well-trained welders attend at your destination in Huntsville to deliver you with a staircase quick-fix or enhanced solutions. Each staircase repair or replacement offers a broad variety for us to use our skills in helping your staircase come back to life and be 100% safe.
More Information About Huntsville
Huntsville is a city in the Appalachian region of northern Alabama and is the county seat of Madison County. Extending west into neighboring Limestone County and south into Morgan County, Huntsville has become the largest city in the state..
Map of Huntsville
https://www.google.com/maps/place/Huntsville,+AL/@34.7011079,-86.9399371,10z/data=!4m13!1m7!3m6!1s0x88626b67cda2898d:0x9a2c7e89c804566b!2sHuntsville,+AL!3b1!8m2!3d34.7303688!4d-86.5861037!3m4!1s0x88626b67cda2898d:0x9a2c7e89c804566b!8m2!3d34.7303688!4d-86.5861037
Things To Do in Huntsville
https://www.google.com/travel/things-to-do?dest_src=ut&tcfs=EhYKCC9tLzBxOHN3EgpIdW50c3ZpbGxl&dest_mid=%2Fm%2F0q8sw#ttdm=34.562110_-86.747506_9
Reach Out To Us About Your Project
Big or small AMP Welding can handle it all. Fill out our welding request form and let us see how we can best serve your welding needs.
© 2022 AMP Welding & Fabrication